Chrissies Internetworld:
[ zzz.at ]
circuit diagrams
Radio 101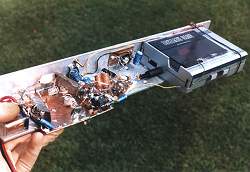 has a collection of schematic diagrams of "homebrew/home-made" FM and short wave transmitters:
a 100 Watts PLL FM-Stereo transmitter,
100mW FM-mini radio transmitter, microphone with oscillator (sometimes called "bugs"),
PLL (phase-locked-loop),
5 Watts VHF FM-transmitter,
simple FM Aerials
60 Watts 49m-short wave transmitter,
500W-medium wave transmitter,
20 Watts short-/medium wave transmitter,
stereo decoder (for transmitting in FM stereo),
a simple voice scrambler,
VHF FM-amplifier 20mW in, 5 Watt out and an
1000 Watts (100 W input) Amplifier for 3-30 MHz range.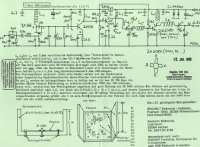 On the right you see an example of a schematic diagram of a 5 Watts FM-Transmitter.

More ? Just click here: download: schematic diagrams of fm transmitters free access possible: current User name: www.radio101.de - password: www.zzz.at (subject to change; now available for free as there is no support by mail anymore due to time reasons)

to download our complete collection (16 pages, no single plans available).